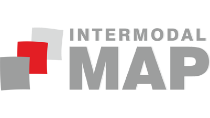 The Intermodal Map is the most comprehensive representation of CT terminals in Europe and beyond. It contains a range of information such as the handling equipment, terminal services, contact details, CT connections, among other things and is also completely free of charge.

What is the purpose of the Intermodal Map?

The possible applications of the Intermodal Map are extensive and it ranges from the Shippers who are interested in identifying alternative transport options to the service providers, manufacturers of terminal equipment and public authorities, who are contemplating the plans for a new CT terminal. The Transport Planners can also quickly get information on transport infratsructure in starting and destination regions of new transports. The Intermodal Map has eliminated the white spots on the map, and it has satisfied the immediate requirement of transparency in this green transport mode.

The good news comes at the end, and it is that the Intermodal Map being financed entirely by private sponsors will continue to grow. Also, we are working to capture most of the CT terminals and depots worldwide using Computer Vision and Artificial Intelligence techniques and integrate those terminals with this interactive map.

Representation of all CT-Terminals in Europe and beyond
Information on the CT connections and the CT Truckers for the pre- and post-carriage
Inclusive of extensive information about transhipment facilities and relations
Filtering option according to specific transport modes and facility type
Completely free access to all users
Free of charge representation for all Terminals, Depots, Rail transport companies and CT Operators